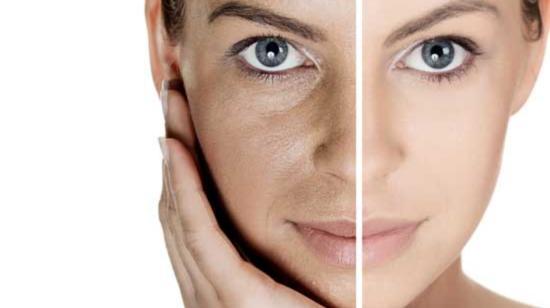 10 Tips that can reduce your Wrinkles & Aging of Skin
Skin does age of everyone at some point of time be it due to lose of elasticity as we age or due to long exposure to sun or lifestyle habits, etc. 
10 tips that can reduce your wrinkles and aging of skin: 
Stay well hydrated in all seasons not just in summers. Hence drink plenty of water, also can include green tea, coconut water, buttermilk, lime water, home made vegetable soups.
Eat more fruits and vegetables. They are rich in antioxidants, fiber, vitamins and minerals. The antioxidant present in it fight damage caused by free radicals and makes the skin look much healthy and younger.  Choose complex carbs, lean protein and low fat dairy.
Include green tea, flax seeds, fatty fish, avocado, pomegranate, green leafy vegetables, vitamins rich food like carrots, citrus fruits like kiwi, oranges, lemon, berries and vegetables like broccoli, bell peppers which are high in anti-inflammatory or antioxidant properties.
Wear sun screen no, daily and reapply it every 2-3 hourly. Apply sunscreen in all seasons be it winter, rainy or summer.
Exercise daily for at least 30 mins it will improve your overall health and benefit your skin as well.
Get adequate sleep. Lack of sleep does affect inner health as well outer skin.
Distress yourself. Try yoga or meditation.
Avoid fried, processed, sugary, refined food  which can cause damage to inner health as well as to skin.
Quite smoking as it leads to skin aging and also causes wrinkles and dull complexion.
Don't drink sugary and aerated drinks and also avoid drinking alcohol and alcoholic beverages.
Taking care of your health now can do wonders for your body and your skin, too.
https://globalhomeopathy.in/wp-content/uploads/2021/02/Global-Homeopathy.jpg
308
550
admin
http://globalhomeopathy.in/wp-content/uploads/2016/05/global-logo1.png
admin
2021-02-23 10:04:45
2021-02-23 10:39:43
10 Tips that can reduce your Wrinkles & Aging of Skin